It's getting warmer in Tokyo, and a cold and crisp beverage is one of the best ways to cool down. So quench your thirst this summer at these amazing beer gardens around the city, where you can enjoy great views, delicious food, and the best local and international brews. Here are eight of our favorites.
BBQ Beer Garden Ablaze, Odaiba
You will find BBQ Beer Garden Ablaze in the Hilton Tokyo Odaiba Hotel, near Daiba Station. Ablaze has tasty barbecue options such as beef, bacon, kebabs, pork sparerib, and fish. In addition, you can enjoy unlimited drink deals on beer, whiskey, and wine. This beer garden has open-air seats that offer fantastic views of Tokyo Bay, the famous Rainbow Bridge, and Tokyo Tower. Ablaze is an excellent place for any occasion.
Date: July 15–October 29
Lunch: 12–2pm and 1–3pm
Dinner: 5:30–7:30pm 6–8pm
Sekirei Beer Terrace, Akasaka
Take a break from the bustle of the city and spend a peaceful evening at Sekirei Beer Terrace, a sophisticated beer garden located in the Meiji Kinenkan. It's a great place to immerse yourself in Japanese culture and history. This spot also has beautiful views of traditional Japanese gardens. You can get a pint of beer and indulge in Japanese, Western, and Chinese dishes. They are open on weekdays from 5pm to 10pm.
Date: May 17–October 26
Dinner: 6–8:30pm
Ark Hills South Tower Rooftop Lounge, Roppongi
Enjoy an exquisite summer evening at Ark Hills South Tower Rooftop Lounge in Roppongi. This luxurious barbecue and beer garden offers a top-tier experience for those with a taste for the finer things in life. They offer three food courses, and their premium barbecue course has more than ten dishes, including a T-bone steak. You can also bring your food, which you can buy in the building. Ark Hills South Tower Rooftop Lounge also offers all-you-can-drink deals.
Date: April 17–October 15
Weekdays: 3–10pm
Weekends and Holidays:12–10pm
Keio Asahi Sky Beer Garden, Shinjuku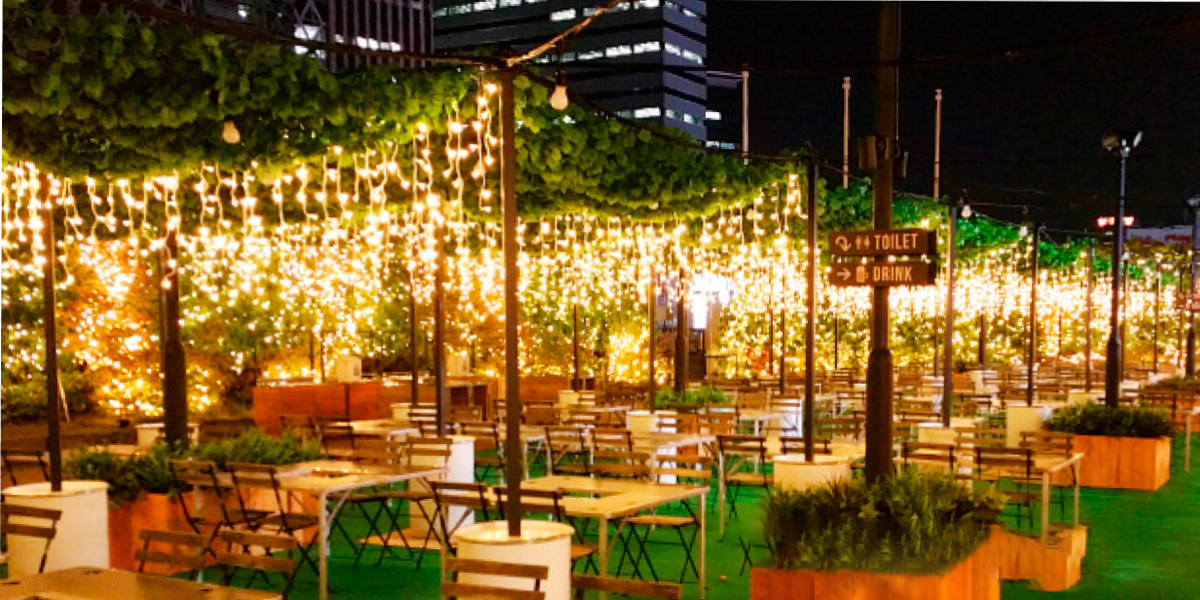 Of all the beer gardens on our list, Keio Sky Beer Garden has the best night views. The famous beer garden is 10 stories up, on the rooftop of the Keio Department Store in Shinjuku. They offer reasonably priced courses suitable for a wide range of customers. Expect to spend ¥3,500 for a two-hour, all-you-can-drink plan. For those who want to eat and drink, the beer garden offers a eight-course menu with two hours of nomihodai for only ¥5,500 per person.
Date: June 26–September 30
Weekdays: 5–9:30pm
Weekends and Holidays: 3–9:30pm
Takao Beer Mount, Hachioji
Mt. Takao is a favorite spot for Tokyo's hikers and nature enthusiasts, and a top tourist destination. It's also a great place to enjoy a cold one. You'll find Takao Beer Mount right on Mt. Takao. The beer garden offers expansive views of Tokyo, and you can even spot Mt. Fuji on a clear day. You can accompany your drinks with a variety of dishes from around the world, and prices are very reasonable.
Date: June 15–October 15
Time: 1–9pm
Garden Islands Beer Restaurant, Shibakoen
This beer garden is at Prince Hotel Tokyo, near Zojoji Temple. They offer two hearty meal plans: an indoor party course for ¥5,500, and an outdoor barbecue set for ¥7,500. In addition, you can enjoy beautiful indoor scenery and unlimited drinks. Garden Islands Beer Restaurant is one of the few beer gardens that are kid friendly. They're open from 5:30pm to 9:30pm, and you'll need to make a reservation before going.
Date: July 1–September 18
Lunch: 12–3pm
Dinner: 5:30–9:30pm
King of the Pirates, Odaiba
Experience a pirate-themed beer garden near Odaiba Bay in Tokyo. The pirate ship beer garden offers all-you-can-drink and all-you-can-eat courses for up to three hours. It's a great place to go with family, friends, dates, or coworkers. From the ship, you'll see beautiful ocean views and the Rainbow Bridge. This beer garden also has private dining rooms for small and large groups.
Date: Started April 15
Time: 5–9pm
Forest Beer Garden, Shinjuku
It's all in the name. Forest Beer Garden is surrounded by greenery, and is perfect for those who love nature. This beer garden offers a mixture of barbecue-style food such as beef, pork, and lamb as well as traditional Japanese food such as yakisoba and onigiri. In addition, you can enjoy all-you-can-drink beers such as Heineken and Kirin. Forest Beer Garden is one of the largest beer gardens in Tokyo, with room for up to 900 beer lovers. It's a great place to meet new people from all walks of life, and it's conveniently located just three minutes away from Shinanomachi Station.
Date: April 15–September 24
Weekdays: 4:30–10:30pm
Weekends: 12–10:30pm
Recommended: Embrace Adventure and Comfort—Japan's Best Glamping Experiences and Where to Go for Tokyo's Best Outdoor Dining