Halloween continues to grow in popularity with Japanese people. Although it is a relatively recent addition to the calendar, the people of Tokyo have made Halloween their own through products, events and activities that have also been influenced by Japanese culture. While you won't find all of the Western traditions—such as trick-or-treating—here are some ways that you can be festive during the spooky season in Tokyo.
What to Wear
If you are going out for Halloween, don't forget to look the part. Cosplaying is a big subculture in Japan and Halloween is the perfect excuse for Japanese people to pull out their best costumes. Walking down the street on Halloween, it isn't unusual to see costumes of popular game or anime characters as well as Japanese comedians and celebrities.
In recent years, there has also been a trend called Jimi Halloween, meaning Mundane Halloween. These are costumes of people in very specific, but oddly relatable everyday situations. For example, people have dressed up as "a businessman on a windy day" or "a lady looking for a seat at the food court." It's a unique and fun subculture of Halloween in Japan that makes a great conversation starter on the night of festivities.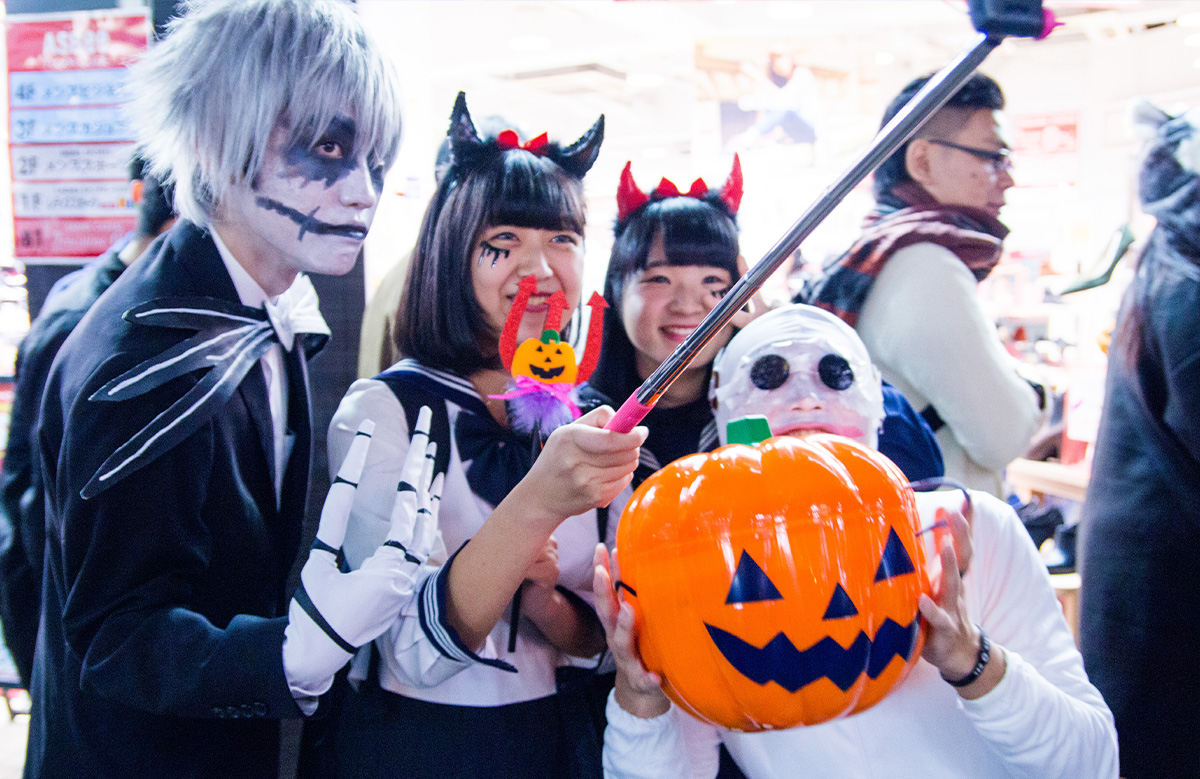 However, if you want a cheap and easy costume for Halloween, you cannot go wrong at Don Quijote. The costumes on sale may be a bit generic, but they are affordable and available even on the night of Halloween, just in case you put off buying your costume until the last minute. They also stock candy, drinks and whatever else you may need for a house party or family celebration.
Where to Go
For Halloween parties in Tokyo, Shibuya and Roppongi are easily the most popular places. There are usually closed street parties and annual Halloween parades, but due to restrictions this year, the party has moved online. Enjoy the city in the world of Virtual Shibuya, using just your smartphone to explore recreations of Shibuya with your customized avatar. There will be various games and challenges spread across the area as well as collaborations with popular singers and anime. This event was a hit last year because it allowed people to participate in the Halloween festival while remaining safe.
For a quiet, relaxed Halloween, check out Sumida Aquarium. This beautiful location under Tokyo Skytree is holding its Halloween in Sumida Aquarium event until October 31. Within a long tunnel enclosure decorated with jack-o-lanterns and colorful backlights, the jellyfish are made to look like little floating ghosts. It's a fantastic option for those with children or anyone looking for something different to do on Halloween.
What to Eat and Drink
While Halloween takes place on the very last day of the month, that doesn't mean you can't enjoy Halloween-themed products and events until then. Department stores, cafes, and fast food restaurants usually have limited-edition products that celebrate the cuter side of Halloween.
Starbucks have released their Halloween collection this year, which includes mugs, cups, bottles, and tumblers featuring all of the black cats, ghosts, and glow-in-the-dark designs you could ask for. Additionally, there are new seasonal items on the menu. Starbucks released their new yakiimo (roasted potato) frappuccino dubbed the Treat with Trick Frappuccino, and it has been making headlines on blog posts around the internet.
KFC brought a sweet potato-flavored treat to consumers with their new Sweet Potato Pie. It's a good example of the mixed culture found in Halloween in Japan, with the traditional Japanese autumn flavor of sweet potato combined with popular Western foods and drinks. The popular furniture retailer Ikea will also provide Halloween-themed dessert items to customers. From black pancakes made with bamboo charcoal to donuts with meringue eyes, the lineup of treats is fun, festive, and appropriately spooky for the season.
If fast food sweets and frappuccinos are not enough to satiate your craving for Halloween treats, try afternoon tea at various Tokyo hotels. Andaz Tokyo's Halloween Afternoon Tea will have both a savory and sweet menu, accompanying a wide selection of teas and coffees. Grand Hyatt Tokyo will offer a few menus so that kids, adults, and everyone in between will have something to enjoy. Their special offerings range from Halloween Afternoon Tea and Horror Movie Afternoon Tea to a Halloween Takeout Box and Halloween Cocktails.
These events, deals, and goodies will only be around until the end of October. With something for just about everyone, don't be afraid to get out there and experience Halloween in Tokyo.