Are you feeling down about missing out on an opportunity to indulge in some delicious American-style Thanksgiving dishes this year? Then keep reading for all the info you need to feel just as thankful on the day. You've got options for getting your Thanksgiving fix in Tokyo, with several restaurants and bars serving special Thanksgiving menus in November. We've also come up with unconventional ways to spend the holiday. Here's where and how you can celebrate in style this year!
Thanksgiving Dinner in Tokyo
The Oak Door Roppongi
This is a steakhouse restaurant located at the Grand Hyatt Tokyo in Roppongi. It offers a wide range of dishes with an emphasis on local ingredients and seasonings. The menu includes everything from honey roasted pumpkin to Canadian prime ribeye. They also have a variety of whiskies and wines to accompany your meal and a good selection of house cocktails. The atmosphere and friendly staff at this place are what sets it apart. The food served here is excellent, so if you aren't sure where to spend Thanksgiving, this is the place for you. They have a four-course gourmet Thanksgiving meal as well as options for takeout.
Dates: November 24–26
Reservations: Click here
Thanksgiving Menu: View here
Address: 6F, 6-10-3 Roppongi
Nearest Station: Roppongi Station
Soul Food House Azabu-Juban
This classic spot has been serving affordable and delicious soulful meals in Tokyo since 2015, so you know it will be good. Located near Azabu-Juban Station, the restaurant is a popular spot for locals looking for authentic American southern and Cajun meals. The restaurant serves all kinds of soul food, from BBQ pulled pork to southern fried chicken, collard greens, and mac and cheese. You can even get vegetarian, vegan, and gluten-free options—make sure you let them know about your dietary needs when you make a reservation or arrive at the restaurant. All the food is made from scratch in-house and served in reasonable time, so there's no need to worry about waiting too long for your meal. Soul Food House has a special Thanksgiving course that includes BBQ spare ribs, honey smoked turkey, garlic mashed potatoes, and much more.
Dates: November 23–25
Reservations: Click here
Thanksgiving Menu: View here
Address: 6F Patio, 2-8-10 Azabu-Juban
Nearest Station: Azabu-Juban Station
Bistro Vino Roppongi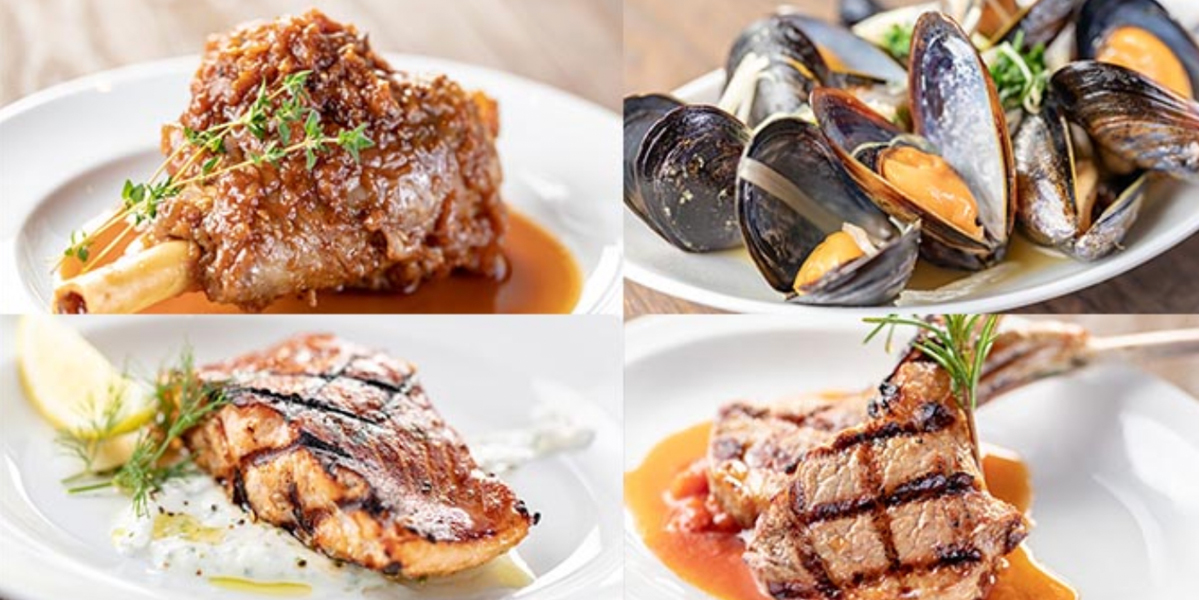 A wine bar, wine shop, and restaurant located in Roppongi Hills, this location offers a variety of wines, focusing on high-quality vintages from around the world. You can find bottles from California, France, and Italy there. The wine shop is also known for its tasting experiences. The Wine Flights tasting experience includes three wines paired with a small portion of food. The Premium Wine Tasting experience allows you to try a variety of high-quality wines before you buy the whole bottle. Bistro Vino's Thanksgiving dinner course features a variety of food, such as a prosciutto and melon appetizer platter, a turkey plate, and a homemade brownie. Make sure you make a reservation at least five days before you visit the restaurant. The Thanksgiving dinner is also available for takeout.
Dates: November 18–27
Reservations: Click here
Thanksgiving Menu: View here
Address: Piramide 1F, 6-6-9 Roppongi
Nearest Station: Roppongi Station
T.Y. Harbor Shinagawa
This brewery restaurant in Shinagawa has a beautiful view overlooking Tokyo Bay. The restaurant serves American food and is one of the few restaurants in Tokyo that serves American portions. T.Y. Harbor also offers a wide variety of seasonal and other one-off craft beers to try on tap or bottle release days throughout the year. They have a special Thanksgiving three-course meal that includes creamed celeriac soup, roasted turkey breast with mushroom gravy, and a classic pumpkin tart. The restaurant is popular among Tokyo residents, tourists, and young business travelers, so make sure you make a reservation before you go.
Date: November 24
Reservations: Click here
Thanksgiving Menu: View here
Address: 2-1-6 Higashi-Shinagawa
Nearest Station: Tennozu Isle Station
Events Happening During the Thanksgiving Week in Tokyo
Oedo Antique Market
If you're interested in antiques, you might want to head to Oedo Antique Market, the oldest local flea market located in Tokyo. The market, which was established in 2003, consists of more than 250 vendors selling antiques, vintage items, and collectibles. In addition to antique goods, there are also restaurants and coffee shops near the market. Oedo Antique Market usually takes place every first and third Sunday of the month at Tokyo International Forum or Yoyogi. However, it will be open on November 23 for Labor Thanksgiving Day.
Date: November 23
Address: Tokyo International Forum, 3-5-1 Marunouchi
Nearest Station: Yurakucho Station
Expat Expo Tokyo 2022
Expat Expo Tokyo 2022 is the biggest international event in Japan. The two-day event has a lineup of exciting activities, including a World Food Fair organized by embassies in Japan. This would be an excellent opportunity to connect with people in Tokyo who are passionate about food, learn new things about food, or spend time with family and friends. You can try many different foods that you might not regularly eat. The Mexican embassy in Japan will have a workshop about the best places to discover authentic Mexican food in Tokyo. Some of these places might just be a Google search away.
Dates: November 25–26
Venue: Tokyo Metropolitan Industrial Trade Center, Hamamatsucho-kan
Nearest Station: Hamamatsucho Station
Fiesta De España (Spanish Festival)
Tokyo is a popular destination for festivals, with plenty to choose from. Fiesta De España is a celebration that takes place in Tokyo every year, and it has become one of the biggest Spanish celebrations in Tokyo. Fiesta De España features live music and dance performances, and Spanish beverages and foods like paella and ajillo will be available. There will also be vendors selling arts and crafts.
Dates: November 26–27
Venue: Yoyogi Park Event Square
Nearest Station: Harajuku Station
RECOMMENDED: Tokyo Concerts, Festivals and Tour Dates 2022–2023 and Best Places to Get Western Breakfasts in Tokyo